Fuliza Mpesa loan, rates, limit, app and how it works from Safaricom describes how the new overdraft service allows Safaricom Mpesa customers complete their Mpesa transactions when you have insufficient funds during payment.
Safaricom Fuliza overdraft facility was announced in late 2018 with it going live just a few days ago. In less than 1 week since its launch, Fuliza attracted more than 1 million users borrowing over 1 Billion Kenyan sillings according to Safaricom CEO Bob Collymore who spoke with Reuters.
Fuliza Mpesa Loan
Fuliza Mpesa loan is actually an overdraft service and not a loan as most of Kenyans think. This overdraft facility enables you to complete your MPESA transactions when you have insufficient funds. Within less than an a week Safaricom Mpesa customers have drawn more than KES 1.5 billion, which is quite impressive and scary at the same time.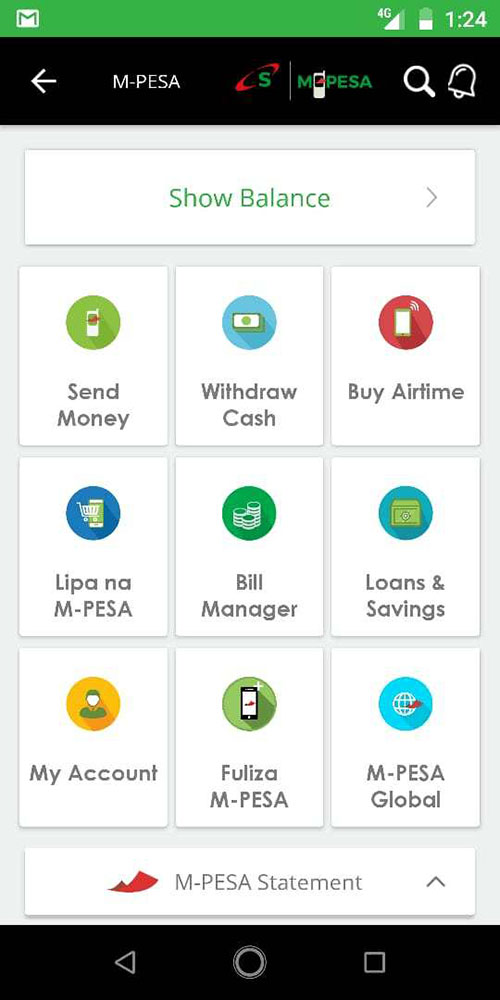 How Fuliza Mpesa works
How Fuliza Mpesa works, is pretty straight forward.
Like a bank overdraft facility, when you are buying an item say at KES 4,000 and you only have KES 3,500 in your Mpesa account, depending on the Safaricom Fuliza Mpesa "loan" amount Safaricom has in place on your account (your overdraft facility), Fuliza will allow you to borrow the difference KES 500 for a maximum period of 30days.
When you make the payment of KES 4,000 with your Mpesa including the added Fuliza facility, your Mpesa balance will now show as KES – 500 (negative) since you are now overdrawn by KES 500.
It's important to note: Once you take the Safaricom Fuliza Mpesa loan or rather overdraft facility you will first incur a 1% one off access fee, and an additional daily charge depending on the Fuliza Mpesa Rates as listed below until the day you fully pay your Fuliza overdraft.
If you borrow between.
KES 0 to 100 you will only pay a one-time fee of KES 2 and no daily charge.
Borrow between KES 101 to 500 and you pay KES 5 everyday till you pay off in full.
Borrow between KES 501 to 1,000 and you pay KES 10 everyday till you pay off in full.
Borrow between KES 1,001 to 1,500 and you pay KES 20 everyday till you pay off in full.
Borrow between KES 1,501 to 2,500 and you pay KES 25 everyday till you pay off in full.
Borrow between KES 2,501 to 70,000 and you pay KES 30 everyday till you pay off in full.
These are also the Fuliza Mpesa Rates Safaricom uses for the charges that they place on the Fuliza overdraft facility on offer.
How to apply Fuliza loan
If you are looking on how to apply fuliza loan, you need to have a registered Mpesa account with an active Safaricom line.
To apply for Fuliza loan, dial *234# then select Fuliza Mpesa and opt in.
apply Fuliza loan – Dial *234# & opt in
That simple, every Mpesa registered line can be registered for a new Fuliza account, with its own Fuliza account limit. Fuliza limit is reviewed every 3 months depending on your Fuliza Mpesa usage.
You cannot withdraw funds from your Fuliza MPESA account.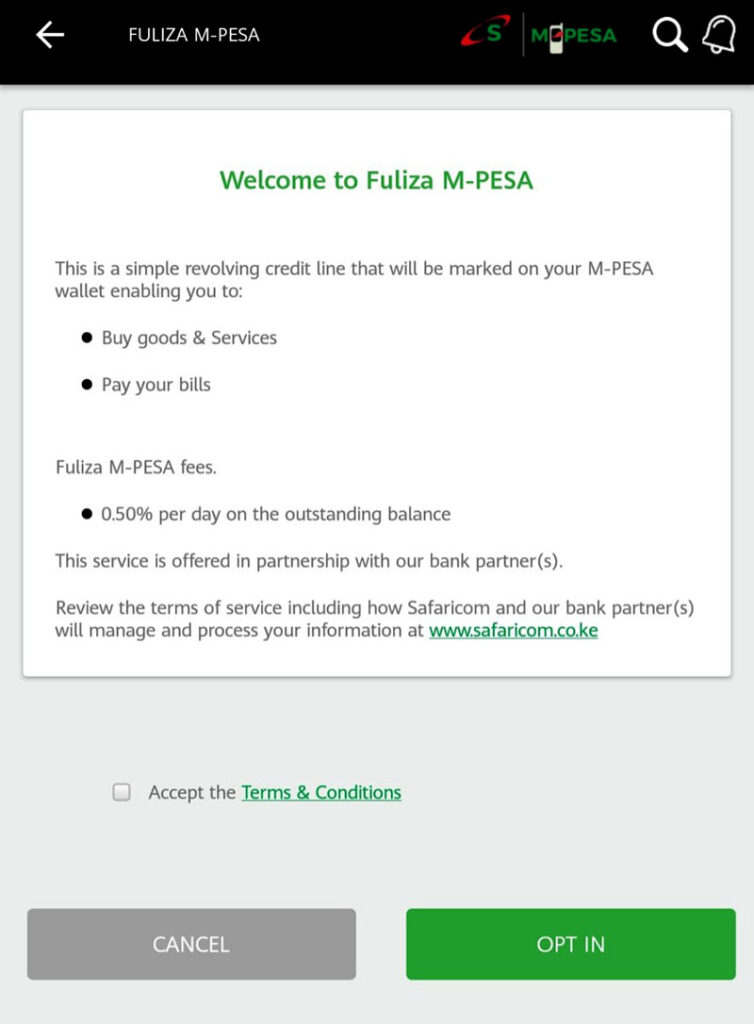 Fuliza Mpesa Rates
Fuliza Mpesa Rates as shown below. 1% access fee and a maintenance fee will be charged on the outstanding balance as per the Fuliza rates table shown below. Additionally standard MPESA transaction charges also apply.
Amount
Rates
Promotional Fuliza Mpesa Rates for 30 day from launch
0 -100
One-time fee of Ksh 2
One-time fee of Ksh 0
101-500
Ksh 5 per day
501-1000
Ksh 10 per day
1001-1500
Ksh 20 per day
1501-2500
Ksh 25 per day
2501-70000
Ksh 30 per day
Fuliza Mpesa Rates
The current Fuliza Mpesa Rates shown here are promotional rates Safaricom is offering for the next 30 days. Check again as these Fuliza rates may change soon.
How to pay Fuliza Loan
Once you take the Fuliza loan, you really don't have to worry so much about how to pay Fuliza Loan. Much of the repayment process happens automatically through your Mpesa account. When you receive funds or deposit cash to your Mpesa account, any outstanding Fuliza Mpesa balance will be automatically deducted from your Mpesa balance immediately funds hit your Mpesa after taking the Fuliza overdraft.
Fuliza Mpesa loan Penalties for late repayment
If you don't pay your Fuliza Mpesa loan within the 30 days that you are given for your overdraft facility, Safaricom will stop access to your Fuliza Mpesa limit and you won't be able to borrow until you fully repay your Fuliza balance in full.
Safaricom Fuliza Mpesa and M-Shwari are run by Safaricom in partnership with CBA. CBA also has a similar service called CBA Loop, through their Loop app.
Check out the Top 10 Loan Apps in Kenya, KCB Mpesa Loan, Saida Loan, MShwari, Timiza Loan, okolea Loan, Okash Loan, Tala Loan, Branch Loan.