Get instant Timiza loans on your phone, pay bills, transfer funds and purchase insurance with Timiza.
Timiza Features
Get instant Timiza loans on your phone
Deposit funds into your Timiza Account
Pay for KPLC/ZUKU/DSTV/GOTV bills with your loan
Purchase insurance
Buy airtime
How to Apply for Timiza Loans: Simply Dial *848# or download it from Google PlayStore.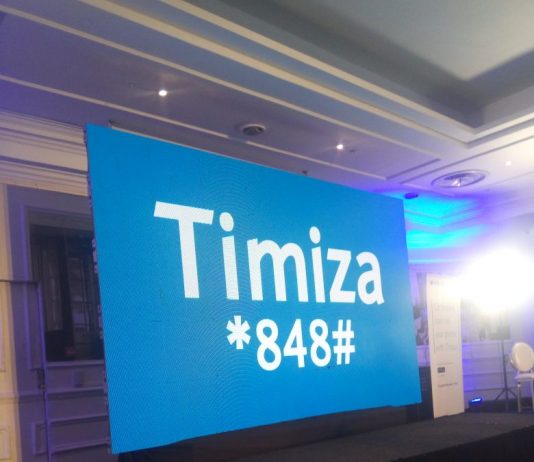 Barclays TIMIZA Loans
What are the requirements for a customer to have a Timiza Account?

Be a registered Safaricom
Be a registered Safaricom MPESA
Have an active Safaricom MPESA account/line.
Hold a Kenyan National Identification Document (ID) Kindly note that Kenyan passports are not

What are the services that Timiza offers?

Transfer from MPesa to Timiza
Transfer from Timiza to M-Pesa
Make a loan request
Repay loan
Balance enquiry
Mini statement
Bill Payments
Insurance
Airtime Purchase
Book a Cab – Little Cab (App only)
Invite Contacts (App only)
Fx Rates (App only)

Can I access Timiza through a Barclays Branch or through any electronic channel?

Timiza is operated entirely from the mobile phone and cannot be accessed
through a Barclay's branch. Timiza is a separate bank account and is NOT linked to your Barclays account or any other bank account.
Timiza Tariffs and Guides
What are the interest rates applicable on the Timiza Deposit Account?

In line with the Banking (Amendment) Act 2016, all deposits on the loan will earn interest of 7.00% p.a being 70% of CBR. The deposit account will be available

What are the transactional charges for a deposit account?
Transaction Fees
Cash Deposit (C2B)**
Via M-PESA
Mpesa Charges apply
Funds Withdrawal**
| | |
| --- | --- |
| Transfer to M-PESA (B2C) ;tiered | |
| KES 0 – KES1000 | KES 23 |
| >KES 1000 | KES 30 |
| Transfer between loan Accounts | Free |
| Other Services** | |
| Bill payment BBK Charges | KES 50 ( As per existingapproved tariff) |
| USSD Costs charged by Safaricom | KES 2 |
**all fees are subject to a 10% government excise duty
What are the transactional charges for the loan product?
Timiza Loan Costs
Interest Rate
CBR + 4% (1.17%)
Loan processing fees
5% per successful loan application
Roll Over Fees
5% of the outstanding loan amount
Timiza Loan Product
What are the features of the Loan?

Quick access to credit
Loan repayment period is 30 days
One time facility fee of 5%
Rollover fee of 5% if the customer does not pay within the 30 day
Loan is disbursed to the customers account (not directly to Mpesa). Customer will access the funds by withdrawing from their loan account to Mpesa

Who is eligible for the loan?
In order to qualify for a loan all you need is to be an M-PESA subscriber for 6 months, transact on the app and actively use other Safaricom services such as voice, data and M-PESA.
How do I check how much I can borrow?
Upon activating the account, you will be issued with a loan limit from where you can borrow
Is there any interest charged on my loan?
Loans attract an interest charge of 1.17% with a facility fee of 5% charged on the cost of processing the
Can you request for a loan immediately you opt-in?

Yes your loan limit will be displayed when you log in to the app

Can you have more than one loan at a time?

You have to repay your outstanding loan first before you can borrow another loan.

Can you pay a loan on behalf of another person?

You can send money to their loan account and they can pay the

If you have not paid your loan within 30 days, what will happen?

Your loan repayment period will be extended for an additional 30 days and you will be charged an additional 5% facilitation fee on your outstanding loan

What happens if you pay in excess of the loan amount?

The outstanding loan balance will be paid off and the extra amount will be moved to your Timiza

If you pay your loan before the due date, will you still be charged the loan facilitation fee of 5% on the loan amount?

Yes, the 5% is a facilitation fee charged on the cost of processing the loan. Early repayment will increase your future loan limit

I cannot access my loan. What are some of the reasons for this?

You have been listed with the Credit Reference
You already have an existing account
You have a low credit

How do I grow my loan limit?

Increase activity on your Barclays Loan Account by moving money in and out of your
Increase savings on your Barclays Loan
Increase usage of MPESA
Timiza Insurance
What insurance products are available on your loan account

We offer Personal Accident(100K) and Funeral Cover

What are the features of the insurance products

The insurance products offered cover death and permanent total disability

What are the charges?

Your policy will be covered at Kes 42 per month

How do I apply?

Log in to to loan account by dialling *848#
Pick the insurance option
Accept the terms and Conditions
Subscribe to the insurance option

How do I make premium payments?

The premium payments will be deducted from the deposit in your Timiza It is important to ensure that there are funds in the account to cater for the premium.
Can I make the premium payment from a my loan account? YES, If Premium amount is deposited in the virtual account

What are the charges?

There are no additional charges to the insurance payment other than the Premium payment